How to Develop Successful Cable Wire Packaging Boxes?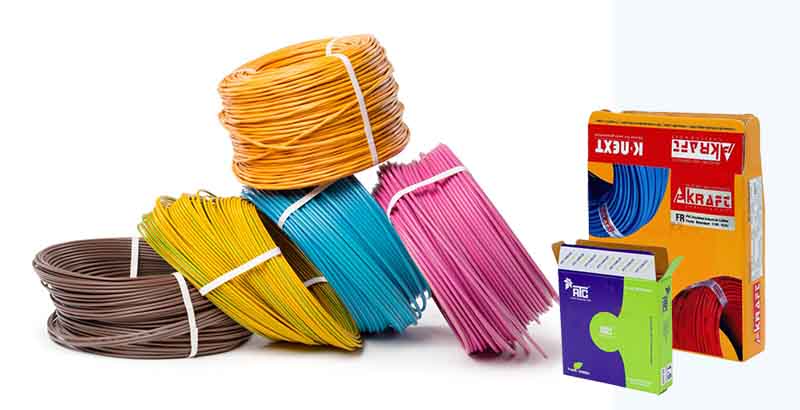 Developing successful cable wire packaging boxes requires careful planning, attention to detail, and a focus on meeting the needs of both the product and the consumers. In this guide, we will explore the key steps involved in creating effective cable wire packaging boxes that not only protect the product but also enhance its market appeal.
Understand the Product and Market: Before designing packaging boxes for cable wires, it's essential to understand the product and its market. Consider the different types and sizes of cable wires you are packaging, as well as their specific requirements for protection, storage, and handling. Research the target market, including competitors' packaging solutions, to identify gaps and opportunities for differentiation.
Set Clear Objectives: Define clear objectives for your cable wire packaging boxes. These objectives may include protecting the product during transportation, providing ease of use for consumers, enhancing brand recognition, and promoting sustainable practices. Clearly defined objectives will guide the design and development process.
Ensure Structural Integrity: Cable wire packaging boxes need to provide adequate protection during transportation and storage. Focus on the structural integrity of the boxes to prevent damage to the product. Consider factors such as material strength, cushioning, and corner protection. Conduct rigorous testing to ensure the packaging can withstand various handling conditions and potential impacts.
Optimize Packaging Size: Efficient use of space is crucial to minimize packaging costs and environmental impact. Design the packaging boxes to fit the cable wires snugly while minimizing wasted space. Consider standard box sizes and shipping requirements to ensure compatibility with existing logistics systems.
Choose Suitable Materials: Selecting the right materials is essential for cable wire packaging boxes. Consider factors such as durability, moisture resistance, and sustainability. Recyclable and biodegradable materials can help reduce the environmental impact. Work with packaging suppliers who offer a wide range of eco-friendly options.
Incorporate Branding and Information: Packaging boxes present an opportunity to reinforce brand identity and communicate important information. Incorporate your brand logo, colors, and design elements to create a cohesive brand experience. Include product information, specifications, safety instructions, and any necessary certifications or compliance labels.
Ensure User-Friendly Design: Design packaging boxes with the end-user in mind. Make it easy for consumers to identify and access the cable wires. Consider features such as handles, tear strips, or easy-open mechanisms. Clear instructions for opening and resealing the packaging can enhance user experience and reduce frustration.
Enhance Visual Appeal: Attractive packaging can significantly impact consumer perception and purchase decisions. Use visually appealing graphics, colors, and imagery that align with your brand identity and target market. Consider incorporating product images or illustrations that demonstrate the cable wire's application or features.
Consider Sustainability: Sustainability is a growing concern for consumers and businesses alike. Incorporate sustainable practices into your packaging design. Use recyclable or compostable materials, minimize waste during production, and clearly communicate the eco-friendly attributes of your packaging.
Test and Iterate: Before finalizing your cable wire packaging boxes, conduct thorough testing and gather feedback. Test the packaging's performance under different conditions and seek input from consumers, distributors, and retailers. Use this feedback to make improvements and iterate on the design if necessary.
Collaborate with Packaging Experts: If you lack packaging design expertise or resources, consider collaborating with packaging experts or design agencies. They can provide valuable insights, technical knowledge, and innovative ideas to create packaging solutions that meet your objectives.
Stay Updated with Industry Trends: Packaging trends evolve over time. Stay informed about the latest developments in packaging materials, design, and sustainability. Continuously monitor consumer preferences and market dynamics to ensure your packaging remains relevant and appealing.
List of Designs in Cable wire Packaging Boxes
When it comes to designing cable wire packaging boxes, there are various elements and features you can consider to enhance the functionality, aesthetics, and branding of the packaging. Here is a list of design options to help you create visually appealing and effective cable wire packaging boxes:
Custom Shape and Size: Design packaging boxes that are specifically tailored to accommodate different types and sizes of cable wires. Customized shapes can add uniqueness and brand recognition to your packaging.
Window Cutouts: Incorporate window cutouts on the packaging to allow consumers to see the cable wires inside. This feature can showcase the product and its quality while creating visual appeal.
Dividers and Compartments: If you have multiple cable wires or accessories to package together, consider including dividers or compartments within the packaging. This helps organize the contents and prevents tangling or damage during transportation.
Cable Management Features: Integrate cable management features such as clips, hooks, or tie-downs inside the packaging. This allows users to keep the cables organized and prevents them from getting tangled.
Branding Elements: Use your brand logo, colors, and design elements on the packaging to reinforce brand identity and create brand recognition. Consistent branding across packaging helps establish a strong brand presence in the market.
Product Images or Illustrations: Include high-quality product images or illustrations on the packaging to showcase the cable wires in use. This visual representation can help consumers understand the product's application and functionality.
Clear Product Information: Provide clear and concise product information, including specifications, usage instructions, safety warnings, and certifications. This information helps consumers make informed decisions and builds trust in your brand.
QR Codes or NFC Tags: Incorporate QR codes or near-field communication (NFC) tags on the packaging. These can be scanned by smartphones to provide additional product information, instructional videos, or access to online resources.
Easy-Open Features: Design packaging boxes with easy-open features such as tear strips or perforations. This makes it convenient for consumers to access the cable wires without the need for additional tools.
Ergonomic Handles: Include ergonomic handles on the packaging to facilitate easy carrying and transportation. Well-designed handles improve the user experience and convenience.
Eco-Friendly Materials: Opt for eco-friendly materials for your packaging boxes, such as recycled or biodegradable materials. Clearly communicate the sustainability aspects of your packaging to appeal to environmentally conscious consumers.
Textured Finishes or Embossing: Add visual and tactile interest to the packaging by incorporating textured finishes or embossed patterns. This creates a premium and sophisticated look while enhancing the overall feel of the packaging.
Holographic or Foil Stamping: Use holographic or foil stamping techniques to create eye-catching visual effects on the packaging. These techniques add a sense of luxury and elegance, attracting attention on the store shelves.
Interactive Packaging: Explore interactive packaging ideas, such as pull-out trays, hidden compartments, or pop-up elements. Interactive features engage consumers and create a memorable unboxing experience.
Tamper-Evident Seals: Ensure the security and integrity of the product by incorporating tamper-evident seals or stickers on the packaging. This instills trust in consumers and reassures them that the cable wires are brand new and untouched.
Cable Wire Packaging Boxes FAQs
Why is packaging important for cable wires?
Packaging is crucial for cable wires as it provides protection during transportation, prevents damage, and ensures the integrity of the product. It also helps in organizing and storing the cables, provides information to consumers, and contributes to the overall branding and marketing of the product.
What materials are commonly used for cable wire packaging boxes?
Commonly used materials for cable wire packaging boxes include cardboard, corrugated board, plastic, and foam inserts. These materials offer durability, strength, and can be customized to meet specific requirements.
How can I choose the right size of packaging for my cable wires?
To choose the right size of packaging, consider the dimensions and lengths of your cable wires. Ensure that the packaging provides a snug fit without excessive empty space. It's also important to consider standard shipping and storage requirements to optimize logistics and minimize costs.
Are there eco-friendly options available for cable wire packaging?
Yes, there are several eco-friendly options available for cable wire packaging. You can opt for materials that are recyclable, biodegradable, or made from sustainable sources. Additionally, you can incorporate sustainable practices in your packaging design, such as minimizing waste and using eco-friendly printing inks.
Can I include branding elements on the cable wire packaging boxes?
Absolutely! Including branding elements on the packaging boxes is a great way to create brand recognition and enhance the overall appeal of your product. You can incorporate your brand logo, colors, and design elements that align with your brand identity.
How can I ensure the packaging keeps the cables organized and prevents tangling?
To keep the cables organized and prevent tangling, you can consider incorporating features such as dividers, compartments, or cable management accessories within the packaging. These elements help secure the cables in place and provide an organized storage solution.
Are there regulations or certifications I need to consider for cable wire packaging boxes?
Depending on your location and the specific application of your cable wires, there may be regulations or certifications that need to be considered for the packaging boxes. These could include safety certifications, compliance with industry standards, or labeling requirements. It's important to research and comply with relevant regulations in your target market.
Can I customize the packaging design for my cable wire packaging boxes?
Yes, you can definitely customize the design of your cable wire packaging boxes. Customization allows you to create a unique and visually appealing packaging solution that aligns with your brand and product requirements. Work with packaging experts or design agencies to bring your customization ideas to life.
How can I ensure the packaging is cost-effective without compromising quality?
To ensure cost-effectiveness without compromising quality, consider optimizing the packaging size to minimize material usage and reduce transportation costs. Use materials that provide adequate protection without unnecessary expenses. Additionally, work with packaging suppliers who offer competitive pricing and explore bulk ordering options.
Can I conduct testing on the packaging to ensure its performance?
Yes, it is highly recommended to conduct testing on the packaging to ensure its performance. Testing can involve simulating transportation conditions, assessing the structural integrity, and evaluating the packaging's ability to protect the cable wires. Testing helps identify potential issues and allows for necessary improvements to be made.